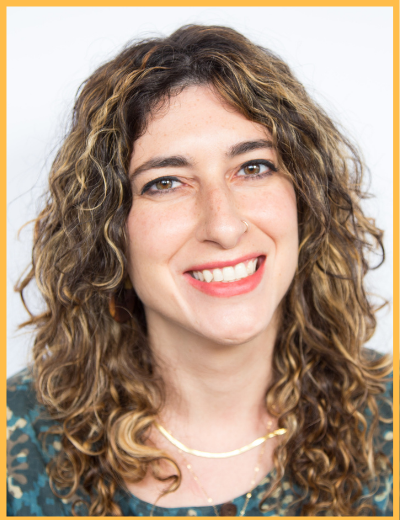 Cristina Lugo, MSW
Licensed Clinical Social Worker (LCSW 71254)
Pronouns: She / Her / Hers
Connection and community have the power to help individuals heal and transform. Whether we are connecting with families, neighborhoods, classrooms or ourselves, youth benefit from these relationships as they grow and thrive. As a therapist and group facilitator at the Institute, my mission is to empower children and teens to enrich both their inner and outer connections with the world so they can overcome the obstacles in life.
In my individual and group therapy work, I use a warm, playful, relational approach to meet youth where they are and provide them with a safe space to express themselves freely. After establishing a relationship, children and teens engage in a meaningful therapy process that helps them build on their inner strengths and capabilities. This therapy process gives children and teens the opportunity to gain personal insight and build skills.  As an experienced therapist, I have had the privilege of witnessing and supporting many clients on journeys of growth, insight, skill-building, and healing.
Parents often ask me how they can support their child's therapy.  When parents and I take a team approach, I have found that the skills the young person is working on are more likely to be practiced and integrated into daily life. When it's age appropriate, I work collaboratively with parents and families to bolster connection and support at home. I offer individual sessions with caregivers along with family sessions to supplement my individual work with youth. I also love working collaboratively with teachers, school administrators, pediatricians, learning specialists, case managers and psychiatrists to coordinate services when this is appropriate.
Finding the right therapeutic approach for each child, teen, and family is important. I use a wide variety of effective and well-researched approaches that are tailored to the unique needs of every client. I have a strong background in expressive therapies including child-centered play, sand tray, and creative arts interventions. I also utilize cognitive behavioral therapy (also known as CBT – a very popular evidence-based treatment), EMDR (a trauma-informed treatment), narrative and solution-focused interventions as needed. Using the lens of mindfulness, I help teens and young adults strengthen the mind-body connection as a way of deepening the understanding of how these interventions work. For younger children, mindfulness-based games and calming activities can also be a great support.
I draw from all these approaches to provide clients with a set of skills and strategies that can be used and practiced between sessions in everyday life. I believe in the enduring capacity for all people to grow, no matter the obstacles at hand. Each challenge can become a lesson, teaching us how to navigate the experiences that are yet to come. I look forward to working with you and your family as we chart these waters together.
My services are available in English or Spanish.
Specialties:
I provide support for growth in the following areas:
Improving mood and well-being with skills and support to decrease depression, anxiety, and anger
Helping clients recover from self-injury and suicidal ideation
Assisting clients to heal from trauma and abuse
Parent Coaching
Family Therapy
Supporting healthy development for LGBTQ youth and their families
Helping youth, young adults, and families navigate acculturation and second-generation youth development
Addressing psychosis
Building self-esteem and self-confidence
Helping students with school transitions, including high school and college transitions
Supporting parents in effective, positive parenting
Offering Eye Movement Desensitization and Reprocessing (EMDR)
Providing Expressive Arts Therapies
Offering Cognitive Behavioral Therapy
Incorporating mindfulness
Advanced Training:
Certified Expressive Arts Practitioner
220 hours of professional training with Expressive Therapies pioneer Dr. Jane Goldberg, PhD
Eye Movement Desensitization Reprocessing (a trauma-informed treatment)
Completed 40 CEUs of professional training with EMDR Consulting trainer Larisa Traga, LCSW and currently obtaining hours to become EMDR trained
Certified Trauma Specialist
Completed training with National Institute for Trauma and Loss in Children
Mindfulness

Ten years of personal practice and study in Ashtanga yoga and meditation
Incredible Years: Parent, Teachers and Children Training Series

Completed 21 CEUs and co-facilitated a 20-week parent training group

Triple P: Positive Parenting Program
Articles/Videos:
Prior Experience:
Children's Hospital Los Angeles
My Friend's Place – a drop-in center for homeless youth in Hollywood
ChildSavers trauma response program
Medicaid funded programs in school, home, clinic and treatment center settings in Richmond, Virginia
Additional Information About My Experiences
Prior to joining the Institute team, I worked in a wide variety of community mental health settings for over ten years. Through these publicly funded programs, I had the privilege of serving vulnerable and historically marginalized communities while helping youth and families overcome institutional barriers.
Most recently, I was part of the team at Children's Hospital Los Angeles, working within home, school and community settings all across Los Angeles. I was able to address a wide variety of high-risk clinical challenges, providing 24/7 crisis response and working with an interdisciplinary team.
In my personal life, I've also volunteered as a community organizer and resource.  It was very meaningful to me to design and provide trauma resiliency workshops in Puerto Rico following the recent hurricane. Through these community experiences, I have learned the immense importance of collaborative work and community connection. In all walks of life, important people, resources, tools, and places lend themselves to the healing journey. In my work with clients, I have found ways to locate these resources no matter what the circumstance may be.
Education:
Masters in Social Work, Virginia Commonwealth University
Bachelors of Science in Psychology, Virginia Commonwealth University
Presentations:
Trauma and Resiliency in Children after Natural Disasters (in Spanish) – CAMBU Community Center in Las Marías, Puerto Rico
Do It Yourself Mental Health
Mission:  My mission is to empower youth to enrich their inner and outer connections so they can overcome any obstacle in life.
Email: CLugo@IFGD.care 
Phone: 626-585-8075 ext. 156
BACK TO OUR TEAM