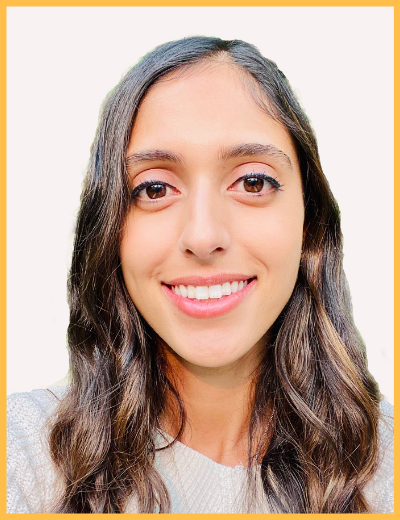 Ruth Maouda, M.A
Practicum Trainee; Program: Doctor of Clinical Psychology, Pepperdine University Graduate School of Education and Psychology
Supervised by Monica Valdivia-Aguilar, LMFT (LMFT 41352) & Grace Goodman , Psy.D. (PSY 28905) 
Pronouns: She / Her / Hers
For me, therapy has always served as a window into the human experience and as a way of knowing ourselves first. That includes understanding how our inner and outer experiences, culture, and personal identities contribute to how we relate to others and the world at large.
I am passionate about helping adolescents, young adults, and their families find their paths towards growth, resilience, and healing. I also enjoy working with individuals exploring different facets of their identities and supporting them in finding meaningful ways to integrate those elements into their everyday lives.
I am a pre-licensed therapist operating from a strengths-based and trauma-informed lens. Even so, my approach to therapy is eclectic in nature, drawing inspiration from many different types of treatment orientations like Attachment, Regulation, and Competency models, systemic and humanistic approaches, cognitive behavioral therapy, motivational interviewing, as well as mindfulness-based techniques in order to provide clients with effective treatment interventions that they can relate to and understand.
Specialties:
Anxiety
Depression
Perfectionism
Self-esteem / Self-confidence
Life Transitions
Self-injury and Suicidal Ideation
Attachment, Regulation, & Competency (ARC)
Trauma-Related Issues
Mindfulness
Motivational Interviewing
Cognitive Behavioral Therapy
Prior Experience:
Didi Hirsch Mental Health Services- Adult Program
South Los Angeles Trauma Recovery Center – Crossroads
Education:
In Progress: Doctor of Psychology in Clinical Psychology, Pepperdine University
Master of Arts in Psychology: Marriage & Family Therapy Emphasis, Pepperdine University
Bachelor of Arts in Psychology, Associate of Arts in Jewish Studies, Minor in English Literature, Yeshiva University
Mission:  My mission is to provide quality service and support to youth and their families and to help individuals develop the confidence and skills to improve their relationships with themselves and with those around them.
Email: RMaouda@IFGD.care
Phone: 626-585-8075 ext.