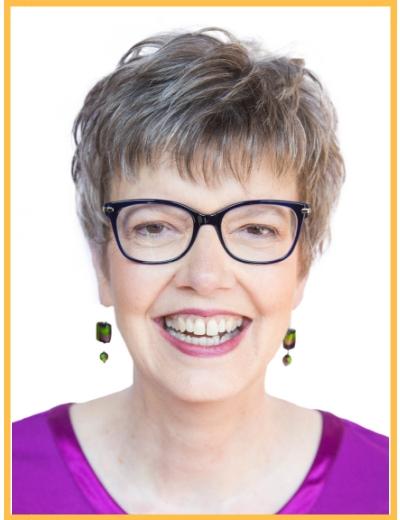 Melissa J. Johnson, Ph.D., Licensed Psychologist (PSY 13102)
CEO & Founder of the Institute for Girls' Development
Training Director, Professional and Post-Doctoral Training 
Making a difference in girls' lives is my passion. I work on the individual, interpersonal, and community levels to make that difference. As founder and CEO of the Institute for Girls' Development, I'm proud of our compassionate, creative and effective team.  Our team is dedicated to providing caring and quality clinical services that work for today's young women, girls, gender-expansive youth and their families. The exciting current research and theory on gender and girls guide our strength-oriented, mind-body approach to clinical work, consultation services, presentations, and trainings.
My Clinical Work: These days, I personally offer therapy services to a select number of clients who are facing life-limiting health conditions, including chronic pain. Often, anxiety and sleep challenges accompany health conditions so I have the opportunity to help my clients develop mindfulness, self-compassion, self-advocacy, and other skills for coping. I love incorporating my training in clinical hypnosis – and teaching self-hypnosis – to my clients who are interested in learning this empowering skill. Hypnosis is a powerful technique that can help children help themselves – to enhance self-regulation, problem-solving, and coping skills.
Public-Speaking, Training, and Consulting: I am a 4th generation educator in my family, with a master's degree in education. I have taught and provided training at all levels, from preschool to graduate school, as well as in professional settings. I have a special place in my heart for educators and love my work with schools and school districts, fostering social and emotional learning. I enjoy working with professionals implementing Stand Up! Speak Out!® , our curriculum to empower youth, particularly girls, as they navigate their complex social and emotional worlds. See below for a list of some of the trainings and presentations I offer.
Supervision and Psychology Consultation: As the Director of Professional Training at the Institute, I value providing supervision and mentorship to postdoctoral psychology fellows, pre-licensed therapists and other colleagues interested in advancing their own professional training. My approach to training is collaborative and consultative in style.
Current Clinical Specialties:
• Building hardiness skills for life stresses and transitions
• Promoting resilience for those with chronic, life-limiting, and life-threatening health conditions, including chronic pain
• Enhancing skills for changing one's relationship with depression and anxiety
• Navigating eating disorders and body image challenges, particularly in connection with health conditions
• Supporting growth in girls and gender expansive youth in the areas of social competency and academic development
Education:
• Doctoral degree in Counseling Psychology, University of Southern California
• Graduate Certificate in Gender Studies, The Study of Women and Men in Society: University of Southern California
• Bachelor's and Master's of Science in Education, University of Southern California
Presentations Experience:
Gender Neutral Presentations:
• Building Grit: Fostering Passion and Perseverance in Everyday Life
• Fostering Social and Emotional Intelligence: Help your Children Build Resilience and Become Happier, Kinder and More Compassionate
• Mindful Families: Present Moment Living for Less Stress and More Connection
• Mindful Parenting for Challenging Times
• Stand Up! Speak Out! Help Children Navigate their Friendship Worlds
• Tough Conversations in Hard Times: How to Talk to your Children about Difficult Topics and Help them Build Resilience
Presentations focusing on Girls:
• Cliques, Conflicts and Connections
• Fostering Leadership in our Daughters
• Get Social Media Savvy
• Top 10 Ways to Help Your Daughter Love Her Body
"I recently saw Dr. Johnson give a talk on fostering leadership in our daughters. It was empowering and incredibly useful information as we navigate these teenage years. We want our daughters to have grit and determination – how to do this mutually and with mindfulness? I learned quite a bit and am grateful for having had the opportunity to hear Dr. Johnson."
-Parent Feedback
Learn more about Dr. Johnson's community talks.
Professional Training Offered:
• Stand Up! Speak Out!® Curriculum Training: Empowering Skills for Girls' Friendships
• Mindfulness Tools: Helping Children and Teens Stress Less and Connect More
• Health and Wellness Center Professional Training
• On-site Training for Educators and School Staff
Recent on-site faculty trainings include Chandler School, Los Feliz Charter School for the Arts, The Waverly School
Learn more about registering for Professional Training with Dr. Johnson.
Other Experience: 
• Former Chair: Masters' Programs in Counseling – University of La Verne
• Adjunct faculty, University of La Verne and the University of Southern California
Videos with Recommended Strategies by Dr. Johnson:
• How to Help Girls be More Assertive
• How to Help Kids with Anticipatory Anxiety
• How to Handle Body Image Issues in our Daughters
• How to Cope with Being the Target of Mean Girl Behavior 
• Four Tips for Finding a Therapist for your Child or Teen
• Introducing Stand Up! Speak Out!®
• Watch more videos by Dr. Johnson and the Institute team in our video library.
Articles with Recommended Strategies by Dr. Johnson:
• Five Tips for Internet Savvy Parenting
• 13 Questions to Ask a Potential Therapist
• Leaders Go First: Taking the Lead in the World of Friendship
• Race and Diversity for Parents: Doing Our Own Work
• Read more articles by Dr. Johnson and the Institute team in our article library.
Mission: To help girls and women develop their whole selves with authenticity and in connection with those who care about them; to foster strength and encourage zest for facing life's opportunities and challenges; to support girls in healthy and creative paths to bold, embodied, and creative life stories.
Read the Institute's mission statement.
Email: MJohnson@IFGD.care
Phone: 626.585.8075 ext. 101
BACK TO OUR TEAM