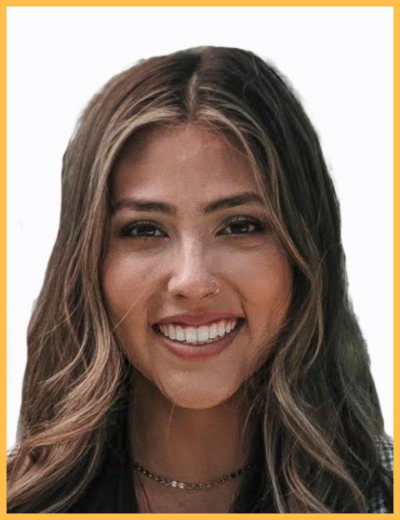 Chloe Rodriguez, MA
Practicum Trainee; Program: Doctor of Psychology in Clinical Psychology, Fuller Theological Seminary 
Supervised by Grace Goodman, Psy.D. (PSY28905)
Pronouns: She / Her / Hers
As a member of the assessment team, I help clients gain insight about their internal and relational dynamics and neurocognitive strengths and struggles. I have a passion for collaborating with clients as they strive towards a greater understanding of themselves, others, and the world. I understand that everyone approaches the change process differently and I am here to provide a safe space for my clients in that process.
As a therapist, I utilize a nonjudgmental approach that focuses on the client's whole self, and I tailor treatment to fit each of my client's strengths, needs, and developmental stages. A few interventions that I implement include mindfulness, cognitive-behavioral therapy, grounding techniques, play therapy, and both psychodynamic and attachment-based approaches. I aim to holistically support clients' health and well-being through strengthening interpersonal relationships, increasing connection to the systems and community around them, and fostering a deeper awareness of themselves and others. Additionally, I emphasize a trauma-focused approach to help clients process past experiences that are potentially impacting their current levels of functioning across various domains. My goal is to help my clients to become their most authentic selves and live their lives to the fullest.
Specialties:
I provide support for growth in the following areas:
Trauma
Anxiety
Depression
Emotional Dysregulation
Relationships
Identify Formation
Disrupted Attachment
Cognitive Behavioral Therapy
Psychological Assessments
Foster Care and Adoption
Prior Experience:
Azusa Pacific University Community Counseling Center, Azusa
The Guidance Center, Compton
Education:
In Progress: Doctor of Psychology in Clinical Psychology, Azusa Pacific University
Master of Arts in Psychology, Azusa Pacific University
Bachelor of Arts in Psychology, Azusa Pacific University
Mission: My mission is to empower clients to become their most authentic selves by strengthening their relationships to themselves and others and highlighting their unique strengths. I help clients feel empowered and safe to explore their interpersonal and intrapersonal experiences to strive toward growth and healing.
Email: crodriguez@IFGD.care
Phone: 626-585-8075 ext. 140
BACK TO OUR TEAM