Be R.E.A.L. (Relationships: Extraordinary, Authentic, Loving)
March 4, 2014 @ 6:30 pm

-

April 1, 2014 @ 8:30 pm

$250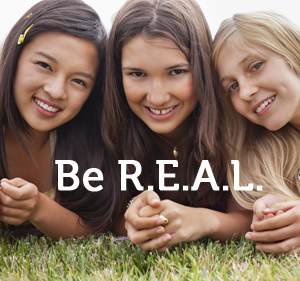 Friendship Challenges? 
Friendships are so important to middle school girls! When we listen to girls, we learn very quickly about their relationships — the ups and downs. What can girls do when friendships are unfriendly — in the neighborhood, at school or online? What can caring adults do to help?
Be REAL is for middle school girls who want to:
• Have positive lasting friendships
• Gain tools for dealing with cliques, exclusion and when a line gets crossed
• Build confidence and have fun!
Be REAL is for adults who want to:
• Connect with other parents and caregivers
• Learn more about the social world of middle school girls
• Gain strategies to empower girls for positive friendships