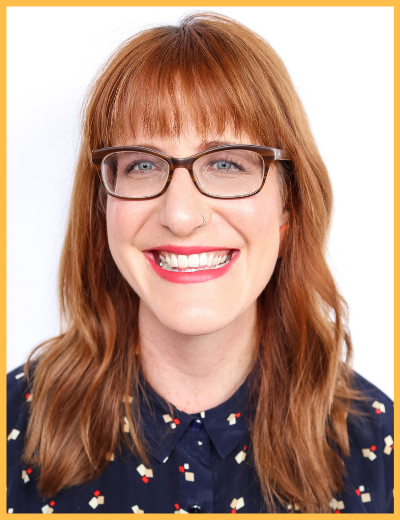 Lauren Eccker, MSW, MPH, Licensed Clinical Social Worker (LCSW 80637)
Pronouns: She / Her / Hers
Hello! Currently I work as a therapist through the Institute's Child and Adolescent Specialty Program. I combine my experience as a therapist, community mental health worker, sex education presenter and feminist advocate to create a space for girls and young women to grow and create.
I work diligently to ensure that I uphold culturally affirming and responsive care to my clients. My priority is to create a space that is inclusive, safe and above all YOURS. My role as a therapist is to work alongside you while you grow.
In therapy, I use a variety of interventions to help you reach your goals. This includes mindfulness, self-compassion practices, social skills building, emotional regulation techniques, CBT and DBT skills, and cognitive restructuring. I'm so excited to be a part of this growing, beautiful team, and I can't wait to meet you!
Specialties:
I provide support for growth in the following areas:
Mindfulness and Self-Compassion Approaches
Cognitive Behavioral Therapy
Life Transitions
Depression
Anxiety
Body Image and Disordered Eating
Self-esteem / Self-confidence
Perfectionism
Suicidal Ideation
Trauma-Informed Yoga
Motivational Interviewing
Resource Advocacy
Population Experience:
Children and Teens
Parents and Families
Women with Eating Disorders
Survivors of Sexual Trauma
Military Veterans and their Families
LGBT+ Youth and Teens
People with Substance Abuse Disorder
Individuals with a Dual Diagnosis
Presentations and Workshops:
Sexuality Education and Healthy Relationships: for foster youth ages 14 to 19
Advanced Training:
Nonviolent Crisis Intervention Trainer, Certified by Crisis Prevention Institute
Street Yoga: Trauma Informed Yoga, Certified by Street Yoga
Sex Therapy Treatment Training, Trained by The Center for Healthy Sex
Sex Addiction Treatment Training, Trained by The Center for Healthy Sex
Problem Solving Therapy, Trained by USC Faculty John Brekke, Ph.D. & Betsy Philips, Ph.D.
Motivational Interviewing, Trained by USC Faculty John Brekke, Ph.D. & Betsy Philips, Ph.D.
Mindfulness through Personal Yoga and Breath Practices
 Other Current Professional Activities:
San Gabriel Valley Psychological Association member
Prior Experience:
Mission City Community Network
Reasons Eating Disorder Center
Step Up on Second
Sexual Assault Resource Center
AmeriCorps VISTA Volunteer
Education:
Master of Social Work, University of Southern California
Master of Public Health, Health Education, University of Southern California
Bachelor of Arts in Political Science, San Diego State University
Mission:  My mission is to offer culturally affirming, safe and empathetic care to everyone I meet both in and out of my office. I hope to hold a space of care where you can explore your deepest self and confront the challenges you face with compassion.
Email: LEccker@IFGD.care
Phone: 626-585-8075 Ext. 103