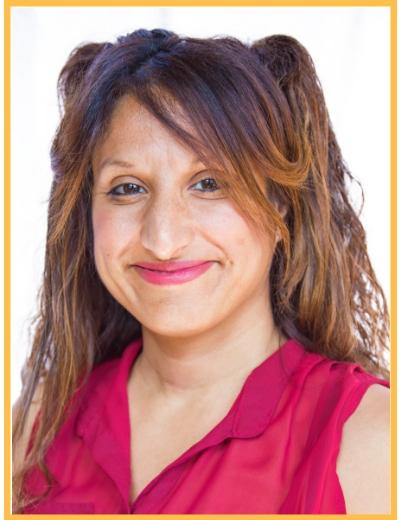 Monica Valdivia Aguilar, M.A.
Licensed Marriage and Family Therapist – LMFT 41352
Clinical Director of the Dialectical Behavior Therapy (DBT) Program
Director of the Young Women's Program
Clinical Supervisor for Associate Marriage and Family Therapists
Pronouns: She / Her / Hers
I have been working with adolescents, women and their families since 1999. Using individual, group, family, and couple therapy, I help clients grow, heal, connect, and become empowered. I use a relational, collaborative, strength- and skills-based approach.  I enjoy providing presentations and workshops to young women, colleges, and organizations. All of my services are available in English and/or Spanish.
Specialties:
I provide support for growth in the following areas:
Helping teens and young women emotionally prepare for the transitions, opportunities, and challenges of high school, college, and graduate school life
Working with adult women – helping support women as they journey through the intersections of career, culture, family dynamics, and coping with the ongoing changes dating, long term relationships, marriage, and family can bring

Specialty in working with women of cultural diverse backgrounds

Couple Therapy – assisting couples and partners – non-married, newly engaged, or married – to transform power struggles into a place of connection in an empathically attuned safe space
Identifying and developing inner strengths to cope with life's challenges
Understanding and managing depression and anxiety
Helping families establish healthy relationships and positive communication and address cross-generational issues
Dialectical Behavior Therapy (DBT)
Working with body image and one's relationship with food
Facilitating recovery from trauma
Bi-cultural and bi-lingual in Spanish
Additional Information about my Specialties:
I have significant experience working with college-age young adults, graduate students, and early career professionals.  Using a relational, collaborative and strength-based approach, I integrate CBT (Cognitive Behavioral Therapy), Relational Cultural Theory, and DBT (Dialectical Behavioral Therapy skills) to help clients navigate through the challenges this stage of life can bring.  I also help clients find new tools and techniques for creating effective ways to manage depression and anxiety. In addition, I have a passion for working with couples to enhance connection in their relationships. I am a Certified Advanced Clinician in an effective model of couple therapy called Imago Therapy.
Clinical Director of the Dialectical Behavior Therapy (DBT) Program: 
I've worked with many teens and young women to help them develop skill sets for managing big emotions.  Working in our comprehensive DBT program, I provide individual DBT and phone coaching to support skills use.  I also facilitate the Young Women's DBT skills group, teaching the four modules of DBT (distress tolerance, emotional regulation, interpersonal effectiveness, and mindfulness).   Additionally, I provide parent coaching to support parents of teens and young adults.
Director of the Young Women's Program:
As the Director of the Young Women's Program, I have the privilege to work with young women as they navigate through the many transitions, opportunities, and challenges of college, graduate school, and the early stages of their careers.  My goal is to empower young women to develop resiliency and self-compassion and to provide them with the tools for managing this phase of life.
Clinical Supervisor for Associate Marriage and Family Therapists:
As Clinical Supervisor of the Institute's Associate Marriage and Family Therapists, I have the honor of walking alongside and assisting our next generation of therapists with training and supervision.  I have a passion for supporting new therapists in their growth and development as we work collaboratively to help create positive change for our clients. I am a Certified Supervisor through both AAMFT and CAMFT.
Presentations & Workshops:
Developing Healthy Relationships: A Workshop for Young Women in High School & College
Surviving a Break Up: A Workshop for Young Women and Women in their 20s and 30s   
Adjusting to Life After College: College Seniors and Post-College Graduates
Thriving & Developing Grit in College: A Workshop for Young Women in their Senior Year of High School and College Freshman
Articles:
Advanced Training:
AAMFT and CAMFT Certified Supervisor
Certified Imago Relationship Therapist for Couple Therapy
Certified Advanced Clinician in Imago Relationship Therapy for Couples
Dialectical Behavior Therapy with Foundational and Multiple Advanced Trainings:

Foundational DBT Training with Charles Swenson, M.D. in 2017
Advanced DBT Trainings:

In 2016 – Doing DBT: An Advanced Intensive Training with Charles Swenson, M.D. & Kelly Koerner, Ph.D.
In 2017 – DBT in Action: Case Based Training with Shari Manning, Ph.D. & Kate Comtois, Ph.D., MPH
In 2018 – The Art of Moving from Conceptualization to Exposure for Emotional Avoidance with Shari Manning, Ph.D

Other DBT Trainings:

In 2010 – Beyond the Basics: DBT Essentials in Action with Liz Dexter-Mazza Psy.D. & Annie McCall, M.A., LMHC
In 2012 – Mindfulness, Willingness & Radical Acceptance in Psychotherapy by Cedar Coons, MSW, LISW
In 2013 – Individual Therapy in DBT: Setting up Treatment, Getting Behavioral Change & Preventing Therapist Burnout by Charles Swenson, M.D.

In 2014 – DBT Strategies is Action Changing Behavior, Accepting Reality & Resolving Conflict by Charles Swenson, M.D
Prior Experience:
• College mental health counseling services at Woodbury University – counseling undergraduate and graduate students, helping first-generation college students to succeed
• Nonprofit community work:
• Valley Family Center
• Center for Interpersonal Development
• Child and Family Center
• School-based and clinic-based services
Education:
• Master of Arts, Psychology, emphasis in Marriage and Family Therapy, Phillips Graduate Institute
• Bachelor of Arts in Psychology, University of La Verne
Mission:  My mission is to empower women and girls to reconnect with their inner voices, honor their own cultural and diverse world experiences, heal from emotional wounds and pain, and develop healthy ways of communicating and connecting with others.
Email: MValdivia@IFGD.care
Phone: 626-585-8075 ext. 112
BACK TO OUR TEAM