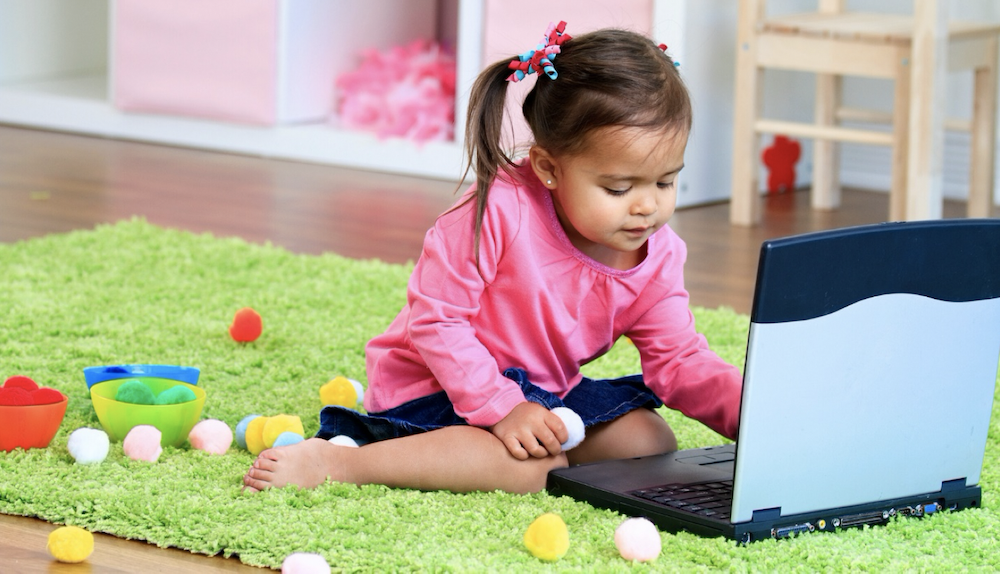 Your kids are at home for the next few weeks, and they need social connection. That much we know. We also know kids are comfortable with technology, connecting online, and navigating screens. Hence, virtual playdates!
Our social connections support our physical health and psychological well-being – whether we're in person or joining one another via telecommunication. During this time of social distancing, we will all benefit from staying connected to friends and loved ones.
1. Plan the right kind of "virtual play."  
How can kids "play" when they're not physically together? Easy! Set them up with parallel activities they can do simultaneously while chatting online – such as building with legos, drawing, or playing with stuffed animals. Parents could touch base in advance and make a loose plan so they have supplies on hand. Then at the agreed time, kids can have their "play date" through Facetime or a platform like Zoom.
Kids love being "active" together, sharing what they're doing in the moment, showing their progress, and chatting as they go.  Having a structured activity provides a focus for conversation.  You will soon see, however, that conversation will widen as the kids get more comfortable.   
2. Try one of these parallel activity ideas!
Drawing or art making: Arrange for kids to have similar items including paper, markers, scissors and/or tape. Older kids may want beads to make jewelry or photos for "friendship" collages.
Legos or Blocks: Or consider any toys that can be used for building "together."
Doll or Action Figure Play: Many children have the same types of dolls or figures at home. They can have virtual tea parties with the dolls or act out superhero scenarios. They could play out known plots if the dolls are linked to specific movies or come up with their own ideas using the dolls' accessories and their own imaginations.
Baking or Cooking Together: If the kids are old enough, they may enjoy making the same recipe with friends or with family members.
Virtual Slumber Party: Gather together in your pajamas and have a "slumber party." Doing nails, hair, chatting, having treats, watching videos together and doing the other activities listed here are all possibilities.
Games: Good old-fashioned games like 20 Questions, Pictionary, Taboo and Hangman are all doable via video. There are many online platforms that allow kids to play checkers, cards, Scrabble and other classics. These would be perfect for playing with friends or long-distance family members, including grandparents. If both parties have the same board game at home, they can play simultaneously.
Learning about Each Other: This at-home time offers a great opportunity for friends and family to share photos and family stories. Bring photos to the camera to share with each other.
Writing Letters: You can use stationery or make your own. Encourage kids to write letters or draw pictures to send in the mail. You can even make it fun to select the recipient! Put names or categories (such as cousin, grandparent, friend) in a bowl and pull out the recipient of the day. Then both kids write a letter or draw something for that person. Parents can help send the letter later.
Writing Stories Together: Have the two children choose a funny picture as a prompt. Then, they can create a joint short story for the picture. Encourage them to read the story to their families later. You could try this idea with friends, grandparents, or other family members.
Making Dough Art: Kids can use playdough, modeling clay, or Model Magic – or follow one of the homemade recipes below. They could have one playdate to model their clay and another to paint it. Older siblings can make the playdough as a science project and give it to a younger sibling. Try some of these easy recipes. (embed links)
3. Help your child complete our virtual playdate planner
To give your child a sense of anticipation and control, you can print and complete our virtual playdate planner in advance!  Enjoy!  (Link to the planner as a printable pdf) 3. 3.
4. Make the most of technology.  
If possible, use a desktop or laptop. Phones and ipads can also be used but do not provide the stability and focus of a stationary device. If your child is young and the device is mobile, it will most likely get moved to an ineffectual screen view or get bounced around.
Set up the screens to replicate in-person conversations. The other child should be viewed as close to "real life" size as possible. Try to place the other child's head directly below the camera to allow for optimum "realism" and help with connecting. Encourage kids to look the other person in the eyes. Remind them they should NOT look directly at the camera.
Minimize tech challenges. Earphones with a microphone can be used to help give children privacy and to reduce noise in your home. If you're having connection issues, try using a desktop rather than a portable device, moving closer to your router, using an ethernet cable, or turning off programs running in the background or on another device in the house – such as Netflix or Skype.
Plan for tech disruptions. If your child is young, plan what you'll do if things get complicated – such as sound cutting out or video freezing. This can happen, and your child should know what to do in advance. The plan may be as simple as find a parent.
Virtual gatherings may be significantly shorter than in-person gatherings. That's fine; the benefits are still there! We hope these suggestions help you get started with confidence, and then the kids will take it from there and create their own fun!