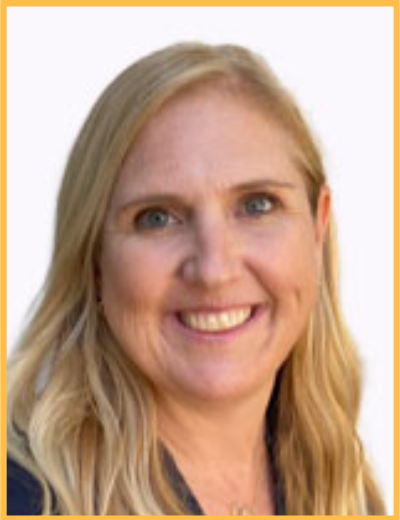 Lauren Albrecht, M.A., MSG, Associate Marriage and Family Therapist AMFT #135201 – Supervised by Monica Valdivia Aguilar Licensed Marriage and Family Therapist – LMFT 41352
Pronouns: She / Her / Hers
Welcome! I'm excited to be a part of the Institute for Girls' Development's dynamic team. I am passionate about supporting parents, teens, gender expansive youth, and young adults as they manage life's ups and downs and discover the strengths inside of themselves to get through difficult times.
As a mother who was raising two teens and was a student during the pandemic, I am acutely aware of how challenging and disorienting the past few years have been. The pandemic has taken an immense toll on individuals and families, and it is my goal to help clients heal from this collective trauma in a warm, safe, and judgment-free therapeutic setting. I subscribe to a culture of empathy and believe that when clients feel seen, heard, and validated, they are empowered to get through difficult times and work towards personal growth and stability at home.
My clinical training and personal experience are helpful as I support parents who are struggling with raising their children in today's hyper-competitive, goal-directed environment. With teen and young adult depression and anxiety on the rise, many parents are unsure how to offer the right support. Together, we develop skills and strategies to bring a sense of well-being, stability, and joy in the home.
I am committed to creating a therapeutic relationship with my clients that is sensitive to the multicultural dimensions that are a part of each individual's experience. As a trustee at an independent school, I am deeply involved in the school's work of enhancing the community's diversity, equity, and inclusion initiatives. In addition, my graduate school program provided me with a greater awareness of multicultural factors such race, ethnicity, gender and gender identity, sexual orientation, and age just to name a few.
I entered the mental health field because I wanted to better understand the underlying causes of the rising mental illnesses in our communities, especially with the teen and young adult population. Once my children reached the age when they needed less day-to-day care, I pursued a lifelong desire to work in the mental health field and earned a Master of Arts in Clinical Psychology. Now, with my education and clinical training, I enjoy helping parents support their families, as well as working with teens and young adults develop the skills to take care of themselves.
Specialties:
I provide support for growth in the following areas:
• Parenting challenges
• Depression
• Anxiety
• High School / College / Life Transitions
• LGBTQ+-related Issues / Identity Development
• Caregiving and burnout
• Mindfulness / Mind-Body Awareness / Guided meditation
• Life skills and independence
• Gifted and neurodivergent children
Additional Information about my Specialties:
Drawing from a variety of therapeutic approaches that are client-centered and humanistic, I use research-based, cognitive-behavioral techniques to help clients challenge unproductive and unhealthy thinking. I create the space for clients to explore their feelings of helplessness and overwhelm. By getting in touch with our inner worlds, we can explore faulty ways of thinking and potentially unhealthy belief systems. And through this process, we can deepen our relationships with family members, friends, and most importantly – ourselves.
In therapy, I lean on the growing body of knowledge around neuroscience to help clients understand the importance of the brain-body connection. It can be productive to discuss the complexity of the brain and how it impacts behaviors, emotions, and our responses to the world in which we live.
I am also available to support clients who are faced with caring for their aging parents. I have experience working with adults who are juggling two roles – taking care of their own children and supporting the needs of their aging parents. Known as the "Sandwich Generation," this group of adults faces high levels of burnout, mental illness, and sleep disorders. With an educational background in gerontology and health administration, I am committed to supporting clients as they find ways to successfully care for both generations.
Other Current Professional Activities:
• San Gabriel Valley Psychological Association, member
• California Association of Marriage and Family Therapists, member
• American Association of Marriage and Family Therapy, member
• Psi Chi, the International Honor Society in Psychology, member
Prior Experience:
• San Gabriel Mission High School, Clinical Practicum
• Macaroni Kid Pasadena, founding publisher and editor
• Cate School, Board of Trustees, current trustee, and former president of the Alumni Leadership Council
• Chandler School, Alumni Council, current member, and former president
Education:
• Master of Arts in Clinical Psychology, Pepperdine University
• Master of Health Administration, University of Southern California
• Master of Science in Gerontology, University of Southern California
• Bachelor of Arts, Skidmore College
Mission: My mission in working with parents, caregivers, teens, gender expansive youth, and young adults is to work together to increase self-awareness, develop coping strategies to manage life's ups and downs, and a find a sense of joy and peace in their lives.
Email: LAlbrecht@InstituteforGirlsDevelopment.com
Phone: 626-585-8075 ext. 129
BACK TO OUR TEAM